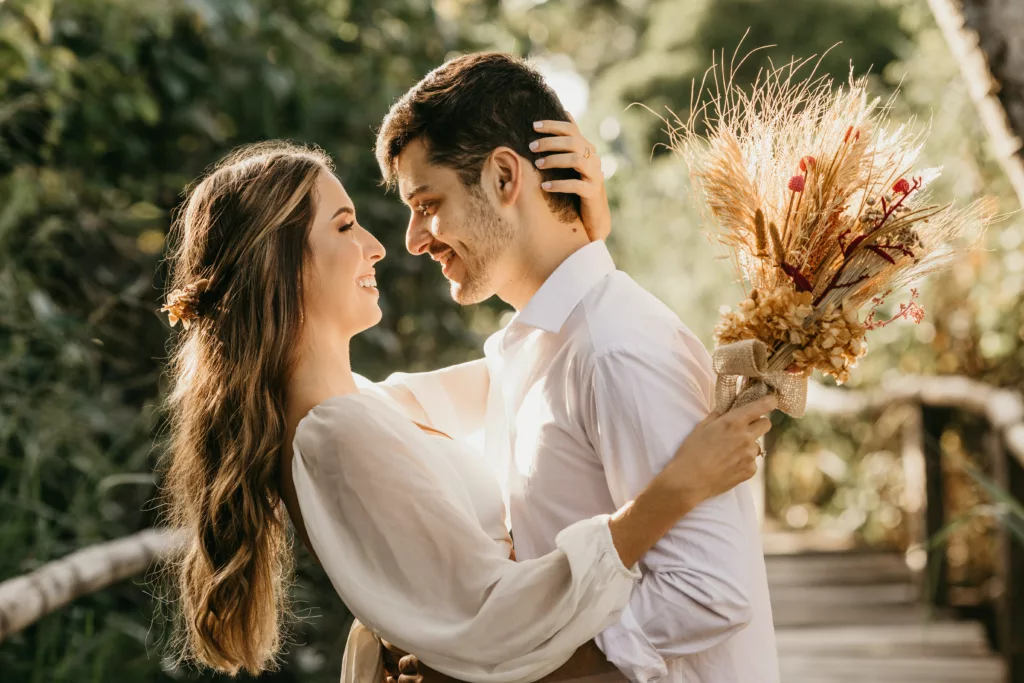 According to science, soulmates exist. The concept of a soulmate relationship has been explored in various ways throughout history and culture.
Generally, it refers to a deep and spiritual connection between two people that goes beyond a physical or romantic relationship.
The idea is that soulmates are two people who are meant to be together, and their relationship is often seen as a source of fulfillment and purpose.
There are many interpretations of a soulmate relationship, and it's ultimately up to each individual to decide what it means to them.
The Bible says much about love, relationships, and finding your soulmate. From the story of Adam and Eve to the Song of Solomon, the Bible is filled with wisdom and insight on this topic.
If you're looking for a soulmate relationship bible verses about love that will guide you in finding your soulmate, or want to understand the nature of love, the Bible has much to offer.
This article will explore some of the most relevant verses.
List of soulmate relationship bible verses about love
Discover the power and beauty of love with our collection of soulmate relationship Bible verses.
These verses offer wisdom and guidance on finding a partner who shares your faith, building a deep and meaningful relationship, and experiencing the joy of true love.
1. Genesis 2:18- Companionship
" And the Lord God said, it is not good that a man should be alone, I will make him a helper meant for him" – Genesis 2:18
This verse is one of the most well-known verses in the Bible about love and companionship.
It speaks to the idea that God created humans as social beings who need the company of others. In this case, it refers to a man and woman coming together in marriage.
You must understand that having a partner who supports and compliments you is essential to a happy and fulfilling life.
Acknowledging this fact is the first step to finding your soul mate. When you see the need for a soulmate, then you'll work towards finding it.
You should also eliminate your perfectionist standards to find your soul mate.
2. Song of Songs 2:16 – Unconditional love
"My beloved is mine, and I am his…" – Song of Songs 2:16
This verse expresses the mutual, unconditional love between two partners. The book of Song of Solomon is a collection of love poems.
In this verse, the speaker expresses their love for their partner, using beautiful and poetic language.
They describe their partner as "mine," which shows they feel a deep sense of ownership and connection to this person.
You should be ready to love your partner unconditionally because that's the only way to feel equally loved and valued.
You need to connect with them to know if they are your soulmate. You need to embody an intimate and heartfelt declaration of love.
3. Song of Songs 6:3- Care and attention
"I am my beloved's, and my beloved is mine; he browses among the lilies." – Song of Songs 6:3
This verse describes the mutual and exclusive love between two partners. It uses the image of a person picking flowers to represent how gentle and passionate love can be.
This verse is lovely and captures the essence of a soulmate relationship.
It's saying that love is like a garden where each person can grow and blossom. And, just like a garden, a soulmate relationship requires care and attention to flourish.
The image of browsing among the lilies is also a metaphor for being wholly at ease and content in a relationship.
4. Ecclesiastes 4: 9-12 – Support
Two are better than one because they have a good return on their labor: if either falls, one can help the other up. But pity anyone who falls and has no one to help them up. Also, if two lie down together, they will keep warm. But how can one keep warm alone?" – Ecclesiastes 4: 9-12
This verse is almost the same as the first. It explains the need for you to have a partner. Remember that it's essential for two people to work together because they are better than one.
When you work together with someone, you can achieve more and help each other when needed.
There must be mutual support for a healthy soulmate relationship. You will find a soulmate when you follow these guides
---
ALSO READ: How To Connect With Your Mom Who Passed Away
---
5. Proverbs 31:10-12 – Value, trust, and goodness
"An excellent wife who can find? She is far more precious than jewels. The heart of her husband trusts in her, and he will have no lack of gain. She does him good, and not harm, all the days of her life." – Proverbs 31:10-12
This passage emphasizes several essential characteristics crucial in a true soulmate: value, trust, and goodness. Let's take a look at each of these in turn:
A. Value – The writer of Proverbs emphasizes that a genuinely excellent wife is more precious than jewels or any earthly treasure, implying that a true soulmate is incredibly valuable, not just because of their external appearance or material possessions.
B. Trust – The passage notes that the husband's heart will trust in his wife. True soulmates can be charged in every aspect of life and the relationship. The bond and trust between the two will grow, which is vital in a soulmate.
C. Goodness – The writer also describes the excellent wife as someone who "does him good, and not harm, all the days of her life."
It indicates that a soulmate should be someone devoted to their partner's well-being and always be there for you through the ups and downs of your life, and you must reciprocate the same.
In conclusion, this passage tells us that a true soulmate is valuable, trustworthy, and sound.
Sets a standard for the kind of person you should be looking for if you want to find your soulmate and also provides guidance on the type of person you should strive to be if you want to become the kind of soulmate that someone else is searching for.
6. Genesis 2:24- One flesh
"Therefore a man shall leave his father and his mother and hold fast to his wife, and they shall become one flesh." – Genesis 2:24
This verse highlights the importance of leaving one's family of origin and cleaving to one's spouse.
It suggests that to form a meaningful relationship with your soulmate, you are willing to cut through new life and family with your partner.
Additionally, this verse suggests that a soulmate is someone with whom you can become "one flesh," meaning you and your soulmate should be intimately connected in every way – physically, emotionally, and spiritually.
It would help if you are vulnerable and transparent with each other and willing to work together towards shared goals.
This verse reminds us that finding a soulmate is not just about finding someone with whom you share interests, hobbies, or material possessions.
It's about finding someone with whom you can build a deep, meaningful connection that can withstand the tests of time and life challenges.
This kind of bond requires commitment, sacrifice, and humility, and it's the kind of relationship that allows you to grow and flourish as an individual, a couple, and a family.
7. Ephesians 4:2-3 – Humility and gentleness
"Be completely humble and gentle; be patient, bearing one another in love. Make every effort to keep the unity of the Spirit through the bond of peace." – Ephesians 4: 2-3
This verse provides wisdom on behaving and interacting with our soulmates and other people.
It emphasizes the importance of being humble, gentle, and patient and holding onto the "bond of peace" to maintain the unity of the Spirit and the emotional bond in your relationship.
When you are humble, you are not puffed up or boastful in your interactions with others. Instead, you are willing to listen, understand, and accept others for who they are.
It's important to remember that healthy relationships require mutual respect and appreciation from a humble and teachable spirit.
Being gentle is an essential component of a successful relationship. Gentleness means treating your soulmate with kindness, love, and sensitivity, even when you don't feel like it.
It means avoiding harshness or violence and responding to them patiently and emphatically.
Patience is also essential in building and maintaining meaningful relationships. It means being willing to wait or endure difficulties with our soulmate or family member without losing faith or becoming angry.
It means understanding others' perspectives and being gracious and forgiving when misunderstandings arise.
In relationships, you stay committed to cultivating common ground and shared experiences that bring you closer together.
It means finding shared values, interests, hobbies, and goals to pursue and keeping the bond of peace by refusing to allow conflict or misunderstandings to tear the relationship apart.
You must have a good heart; doing so creates an atmosphere of love, grace, and joy that helps build and maintain your connection with your soulmate and others.
8. Psalm 37:4 – Strong relationship with God
"Delight yourself in the Lord, and he will give you the desires of your heart." – Psalm 37:4
This verse encourages us to build a solid relationship with God and trust Him to give us the desires of our hearts.
As we seek God's will and delight ourselves in Him, He increases our capacity to love and to be loved.
Also, this verse suggests that God's plans for our lives are good and that if we trust Him and seek His will, He will bring us into a loving relationship aligned with His greater purposes.
God knows what we truly need; sometimes, our desires for a partner may not be for us to decide.
Thus, it is essential to trust Him to provide what is best for us in every aspect of our lives, including finding a soulmate.
Ultimately, this verse reminds us that finding a soulmate is not about our plans or desires but trusting God's perfect timing and technique.
As we seek His will, He will guide us to the right person to complement and support us in our unique paths and callings.
When we focus on cultivating our relationship with God, we become more prepared and ready to receive His blessings, which include finding a loving and fulfilling soulmate.
9. Proverbs 31: 30 – Fear of God
"Charm is deceptive, and beauty is fleeting; but a woman who fears the Lord is to be praised." – Proverbs 31:30
This verse acknowledges that charm and physical beauty may appeal to a potential partner, but these qualities are fleeting and do not make up for a lasting relationship.
Instead, it recommends finding a partner with deep reverence and respect for the Lord.
When someone fears the Lord, they have a sense of awe and reverence for God's power, wisdom, and goodness.
They are committed to living a life that is pleasing to Him, and they seek to follow His will in all areas of their life, including their relationships.
As such, they are likely to be kind, generous, patient, and loving with their partner and will work hard to build a relationship that honors God.
This verse suggests that finding a partner with these qualities is highly valuable and worthy of praise.
If we focus on seeking someone who loves God and seeks to honor Him in their lives and relationships, we are more likely to find a soulmate who will bring us happiness, fulfillment, and mutual spiritual growth.
10. Psalm 27:14 – Wait for the lord
"Wait for the Lord; be strong, and let your heart take courage; wait for the Lord!" – Psalm 27:14
This verse encourages us to wait patiently for the Lord to bring the right person into our lives.
It reminds us that finding a soulmate is not a matter of our timing or efforts. Instead, it relies on God's perfect timing and plan.
The verse also emphasizes the importance of being strong and taking courage while waiting.
Waiting patiently for a soulmate can be challenging, and we may feel tempted to give up or settle for less than what we truly desire.
However, when we lean on God's strength and draw courage from His promises, we can trust Him to guide us to the right person in His perfect timing.
Furthermore, this verse encourages us to trust God's plan for our lives and believe He leads us towards a fulfilling and joyful relationship.
It reminds us that waiting patiently for the right soulmate is not a sign of weakness but rather a testimony of our trust in God's sovereignty, grace, and wisdom.
Conclusion
The Bible says much about love, soulmates, and finding the right person to share your life with.
Many verses speak to the importance of companionship, support, and finding your soulmate.
This article provides a " list of soulmate relationship Bible verses about love," which offers encouragement and reassurance that searching for a soulmate is worthwhile.
While it may not always be easy, these verses remind us that finding genuine and lasting love is possible. We can all find our soulmates with patience, perseverance, and faith.